10 May 2023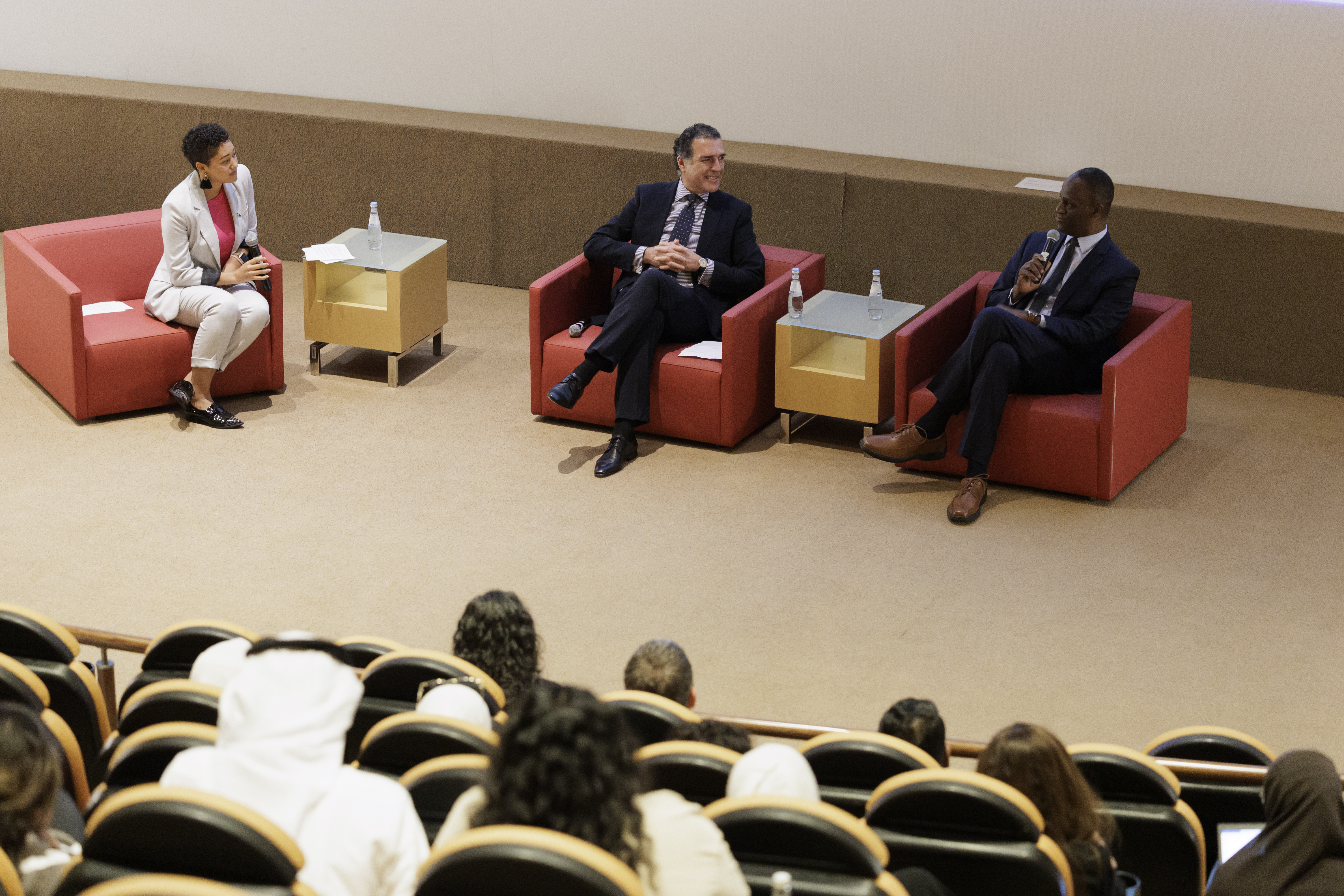 U.S. Ambassador and Earthna explore the importance of biodiversity and tackling climate change at an event held in Education City
Doha, Qatar, May 10, 2023: As a tribute to Earth Day, the Earthna Center for a Sustainable Future, a member of Qatar Foundation, and the United States Embassy in Qatar, jointly hosted a film screening and discussion at Multaqa (Education City Student Center) on 9 May 2023. The event aimed to highlight the importance of biodiversity, environmental preservation and meeting the challenges of climate change in Qatar and the United States.
United States (U.S.) Ambassador to Qatar, Timmy T. Davis, and Dr. Gonzalo Castro de la Mata, Executive Director of Earthna, spoke to members of the public at the screening. Audience members watched two clips of Last Call for the Bayou, a docuseries which explores the social and environmental realities of living along the Louisiana coast, in the state that Ambassador Davis calls home.
"My hometown of New Orleans, Louisiana has felt the effects of climate change firsthand, in the terrible Hurricane Katrina of 2005.  With generous help from our Qatari friends, the city was rebuilt, but global action is still needed to protect communities from New Orleans to Doha and beyond," said Ambassador Davis.  "That's why the U.S. Embassy partners with organizations like Earthna, as part of U.S.-Qatar collaboration on sustainability and energy transition."
After the screening, Ambassador Davis and Dr. Castro de la Mata took part in a panel discussion, during which they explored how climate change affects the environment in both Qatar and the U.S. They also examined how climate change can lead to loss of culture, and the importance of preserving our physical landscape and rich societal heritage. The audience posed questions to Dr. Castro de la Mata and Ambassador Davis about the Bayou ecosystem, and how lessons learned from the documentary can be applied in Qatar.
Reflecting on the event, Dr. Castro de la Mata said: "The discussion we had around climate change and the importance of the preserving unique habitats and ecosystems builds on an integral part of Earthna's work here in Qatar, the region, and the world. Through events like this, and others including Qatar Sustainability Week, we aim to raise community awareness on the impact that natural and manmade events can have on our environment. It was a pleasure to collaborate with the U.S. Embassy on this event and welcome so many members of the public to participate in these valuable and impactful discussions."
The audience saw clips from the Last Call for the Bayou docuseries, including segments from the episodes South as South Can Go and Sink or Swim. The full series is available on Youtube.
To learn more about future community activities, please follow the Earthna (@Earthna.qa) and U.S. Embassy social media accounts (@USEmbassyDoha).