Dayak Activist and Environmentalist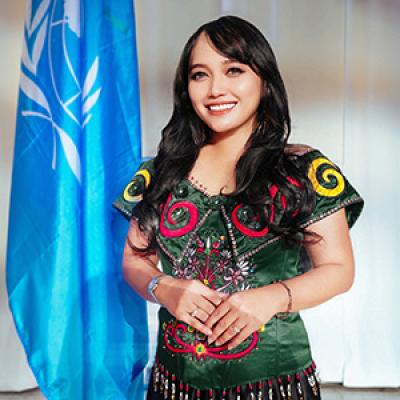 Emmanuela Shinta is a Dayak leader, activist, environmentalist, filmmaker and writer with a reputation for leading and empowering young indigenous people. Her expertise is youth movement and digital storytelling.
In 2016, Shinta started the Youth Act Campaign, which encourages young people to get involved in climate action and demand climate justice, responding to the forest fires and haze that have happened in Kalimantan since 1997. Today, more than 200 young leaders and hundreds of volunteers from all across Kalimantan have joined the movement.
She has trained more than 180 young indigenous filmmakers and has directed 18 indigenous films. She is the founder of the Ranu Welum Foundation, the International Indigenous Film Festival Network, and the Alive Global Ministry, which focuses on charity and healing. Shinta regularly travels the globe with a storytelling tour, including art performances, book readings, and video showcases about Kalimantan and Dayak culture. In addition, she frequently speaks about youth environmental activism and indigenous rights. Written in English, her memoir, Me, Modernism, and My Indigenous Roots, tells about her life as an indigenous woman in the midst of industrialization and environmental destruction and details her journey to activism. She has been featured in UNICEF Global White Paper Women Health & Climate (2017), Asian Geographic issue 117 Planet Under Fire, Age of Nature (2020), TEDx Talk (2020), and The Guardian (2021). She has experiences working with UNIECF, UNESCO, UNDP and UNEP. In 2022, Shinta was appointed as one of ten members of advisory group for Stockholm+50 by United Nations. Currently she is still active campaigning and raising awareness about Dayak indigenous rights and Kalimantan environmental issues through her social media.