President
Republic of Sierra Leone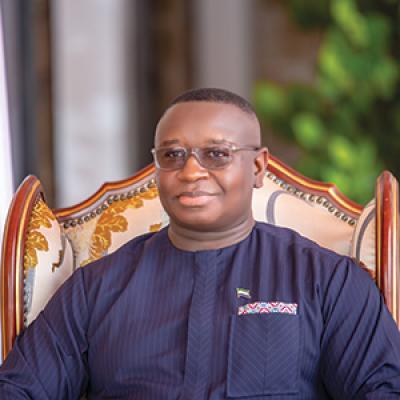 Julius Maada Bio was inaugurated the fifth President of the Republic of Sierra Leone on the 12th of May 2018 after winning multiparty democratic presidential elections against the incumbent All People's Congress Party.
He has deployed science, technology and innovation to support government effectiveness, public service delivery, and governance in general. He is one of the first Presidents to establish a Directorate of Science, Technology, and Innovation to seed, test, and scale cutting edge science and innovation for governance, research, and the private sector.
In the NPRC Government, President Bio served in various capacities as Chief Secretary of State, Chief of Defence Staff, Secretary of State for Information, and Secretary of State for Marine Resources, Deputy Head of State, and ultimately, as Head of State of Sierra Leone.
These experiences were to later inform some of his major policies on easing the business ecosystem, signing bilateral and regional trade cooperation agreements, and campaigning for private sector investments in diverse sectors of the economy including infrastructure, tourism, mining, and agriculture.
As president, President Bio's New Direction agenda has prioritised human capital development which he has uniquely styled as "feeding the mind (free quality education), feeding the tummy (food security), and taking care of the whole body (affordable and accessible healthcare)."
To promote investment in diverse areas of the economy (tourism, infrastructure, agriculture, mining, fisheries), President Bio's government has simplified business regulations and incentives and established an Investment Board. Beyond mere climate mitigation and adaptation, he has called for a new green deal and innovative climate financing that also accelerates development.
For this singular act of restoring democracy and initiating peace talks that were to lead to the signing of a peace accord, President Bio is popularly referred to as "The Father of Democracy."