13 November 2023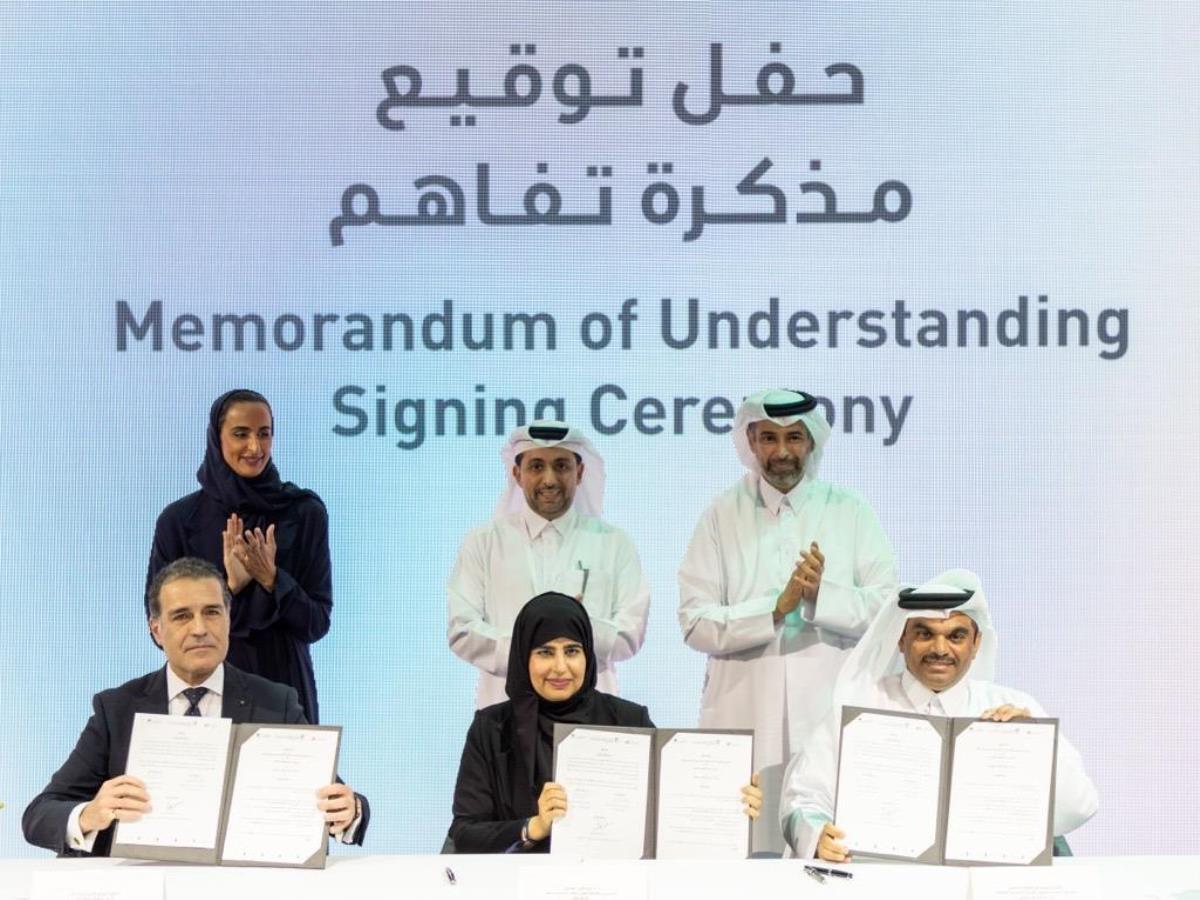 The Ministry of Environment and Climate Change, Qatar University's Environmental Science Center, and Qatar Foundation's Earthna Center for a Sustainable Future have signaled their intent to collaborate on a national program to conserve and restore Qatar's coastal ecosystems.
A Memorandum of Understanding between the three parties to establish the program was signed today on the sidelines of a Doha ceremony to officially name MSC Cruises' first LNG-propelled cruise ship, MSC World Europa, which is designed to set a new standard for sustainability in the cruise industry. During the ceremony, the MSC Foundation of MSC Group announced its intention to collaborate with Qatar Foundation and support the national conservation and restoration program with grant funding.
The multi-year program aims to work on the synergistic power of three ecosystems - mangrove forests, seagrass, and coral. It will seek to conserve, restore, and nurture Qatar's mangrove forests, which support marine biodiversity and fisheries; provide protection against coastal erosion; open up opportunities for ecotourism; and support development through a building-with-nature approach.
HE Sheikha Hind bint Hamad Al Thani, Vice Chairperson and CEO of Qatar Foundation, said: "I am happy to announce the national program for coastal conservation and restoration that will join the efforts of Qatar University, Qatar Foundation's Earthna Center, and the Ministry of Environment and Climate Change. This will be supported by the cooperation between Qatar Foundation and the MSC Foundation.
"Mangrove forests, seagrasses, and coral reefs respond to active stewardship. With this program, we hope to identify, implement, and scale approaches for the conservation and restoration of our coastal environment and ecosystem so that we may ensure an immensely valuable element of our country's environment and character is restored for current and future generations." HE Sheikh Dr. Faleh bin Nasser bin Ahmed bin Ali Al Thani, Minister of Environment and Climate Change, said: "This national program to conserve and restore Qatar's coastal ecosystems is important in maintaining ecological balance and rehabilitating sensitive ecological ecosystems that have been threatened by human and industrial activities.
"The Ministry of Environment and Climate Change is keen to benefit from nature-friendly solutions to mitigate the impact of climate change and to adapt to it. I am glad to announce that this new step will aim to work with Qatar Foundation's Earthna Center and Qatar University to achieve the Ministry's goals in relation to planting more mangrove trees and committing to the conservation of mangrove forests, which will enhance our ecosystems and conserve biodiversity." HE Dr. Faleh explained that the Ministry of Environment and Climate Change places the cultivation of trees in Qatar, including in mangroves, among its priorities, and over recent years it has succeeded in doubling the areas of mangrove trees on Qatar's north-eastern coast.
"The objectives of this national program to conserve coastal ecosystems aligns with the Ministry's strategy and vision to increase the number of trees in Qatar and to rehabilitate ecosystems," he said. "This is why the Ministry is supporting the collaboration reflected in the Memorandum of Understanding with Earthna and Qatar University to move forward with the goals of this program, which will serve the Ministry's vision and Qatar National Vision 2030 with regard to preserving and sustaining the nation's environment." HE Dr. Hassan Al Derham, President of Qatar University, said: "Qatar University has a long history in the field of marine environment and conservation, and is keen to strengthen its local partnerships with various parties with similar concerns and commitments in this area.
"The ongoing research at Qatar University in environmental conservation and sustainability, which echoes the vision of the State of Qatar as a whole, aims to preserve the environmental heritage and protect natural resources, for present and future generations. We are pleased to be a part of this program and use our wealth of knowledge at Qatar University to contribute to this important cause." The MSC Foundation is dedicated to restoring the balance between people and nature to protect biodiversity. With MSC Cruises supporting the FIFA World Cup Qatar 2022 through providing cruise ship accommodation for supporters, the MSC Foundation's support for the national marine restoration program will contribute to the legacy that the tournament aims to create.
Pierfrancesco Vago, Chair of the MSC Foundation Executive Committee and Executive Chairman of the Cruise Division of MSC Group, said: "This collaboration reflects a shared commitment to caring for our Blue Planet. Bringing specialists to work in a synergistic power of three ecosystems together, taking a holistic approach to conserving and restoring mangroves, seagrass, and coral reefs, combines all three interconnected systems to support marine biodiversity.
"As a family-led foundation, our vision and active commitment to long-term impact and long-term partnerships enables us to pioneer new ways to restore ocean health and biodiversity. We are honored to support Qatar in this valuable work." An additional core component of the program will focus on how mangrove forests, coastal seagrass, and coral reefs interact symbiotically, forming some of the world's most diverse and productive ecosystems while creating conditions that can mitigate the effects of climate change.
The program will study these interactions between the ecosystems with the aim of identifying how best to support them and promote their positive effects, which is intended to support sustainability research and raising awareness on environmental protection in Qatar.