06 November 2022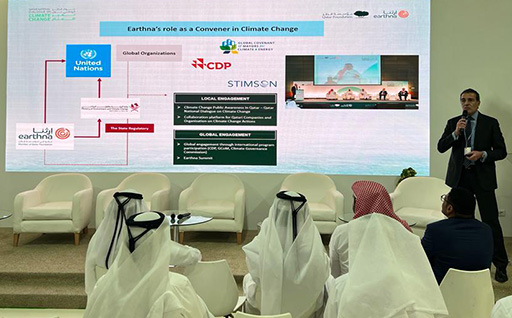 Doha, Qatar, November XX, 2022: Qatar Foundation representatives led and participated in a number of environment-focused sessions during this year's 2022 United Nations Climate Change Conference (COP27) at the Qatar Pavilion, which was hosted by the Ministry for Environment and Climate Change (MOECC). 
During COP27, which is taking place from November 6 to 18 in Sharm El-Sheikh, Egypt, speakers from Qatar Foundation (QF) entities including the Earthna Center for a Sustainable Future (Earthna), Qatar Environment and Energy Research Institute (QEERI), Hamad Bin Khalifa University (HBKU), and Texas A&M University at Qatar (TAMUQ), led and participated in discussions on a variety of topics including sustainability in Qatar, mechanisms for multi-sectoral collaboration, the role of youth in climate change negotiations, aiding decarbonization, the impact of climate change on groundwater quality, and how to develop circular economies in the tourism industry.
Dr. Gonzalo Castro de la Mata, the Executive Director of Earthna, reflected on Qatar Foundation's participation at this year's edition of COP, saying: "Combatting and adapting to climate change is at the forefront of both Qatar's and Qatar Foundation's priorities, and organizations are working together to support the country's ambitions. Earthna are delighted to have had the opportunity to represent QF, alongside our colleagues from HBKU, QEERI and TAMUQ on the Qatar Pavilion at perhaps the most important global climate change event this year. 
"Over the past week, by coming together with experts from Qatar and beyond to exchange knowledge during sessions and discussions, we have been able to learn from each other and progress our understanding of what is arguably the most pressing challenge the world is currently facing."
At a session held in the Qatar Pavilion, Earthna, in cooperation with the Economist Impact, launched the 'Pathways to Circular Tourism in the Middle East' report, which examines challenges and solutions related to accelerating tourism in a sustainable way within the region, and highlights the need to adopt a circular economy within the industry. 
Engineer Meshal M. Al-Shamari, Senior Director of Strategic Initiatives and Stakeholder Engagement at Earthna, led the session alongside Phillip Cornell, Principal Energy and Sustainability at Economist Impact. Reflecting on the report, Engineer Al-Shamari said that "This report, and its findings, are an important step in understanding and alleviating the environmental impact of tourism within the region. A circular tourism economy will provide a framework for sustainable growth by bringing together stakeholders from across the industry to implement lasting change, driven by a focus on behavior change, recycling and regenerating resources and reducing waste." 
Additionally, Earthna presented the results of the Qatar National Dialogue on Climate Change that brought together thought leaders, decision makers and climate change experts from Qatar's public and private sectors to drive discussion and action to continue pursuing sustainable development in the context of global climate challenges.
COP27 saw governments, academics, and experts from countries around the world come together to take action towards achieving collective climate goals and build on previous successes to pave the way to effectively tackle the global challenge of climate change. 
Earthna
Earthna is a non-profit policy research and advocacy center established under Qatar Foundation (QF) to inform and influence national and global sustainability policy. 
Bridging technical and research expertise with policy advice and advocacy, Earthna will convene a wide community of technical and research experts, government, policy and decision makers, businesses, multilateral institutions, and civil society to generate a more sustainable future. 
Earthna runs multidisciplinary programming with a focus on the fields of hot and arid climates, sustainable cities, and sustainable energy, as well as the potential of QF's Education City as a testbed for sustainable technologies and practices. 
Earthna is focused on developing tools, solutions, and policies to improve people's lives within a thriving natural environment. Working together with our community to co-create and design solutions that utilize our resources and understand our local culture and needs, we deliver a message of hope and impactful action that will strengthen our legacy. 
For any media inquiries, please contact: Sarah Abdussalam, sarah.abdussalam@teneo.com, +974 5010 6788
Qatar Foundation – Unlocking Human Potential
Qatar Foundation for Education, Science and Community Development (QF) is a non-profit organization that supports Qatar on its journey to becoming a diversified and sustainable economy. QF strives to serve the people of Qatar and beyond by providing specialized programs across its innovation-focused ecosystem of education, research and development, and community development.
QF was founded in 1995 by His Highness Sheikh Hamad bin Khalifa Al Thani, the Father Amir, and Her Highness Sheikha Moza bint Nasser, who shared the vision to provide Qatar with quality education. Today, QF's world-class education system offers lifelong learning opportunities to community members as young as six months through to doctoral level, enabling graduates to thrive in a global environment and contribute to the nation's development.
QF is also creating a multidisciplinary innovation hub in Qatar, where homegrown researchers are working to address local and global challenges. By promoting a culture of lifelong learning and fostering social engagement through programs that embody Qatari culture, QF is committed to empowering the local community and contributing to a better world for all.
For a complete list of QF's initiatives and projects, please visit: www.qf.org.qa
To stay up to date on our social media activities, follow our accounts on: Instagram, Facebook, Twitter and LinkedIn.
For any media inquiries, please contact: pressoffice@qf.org.qa