Secretary-General
Commonwealth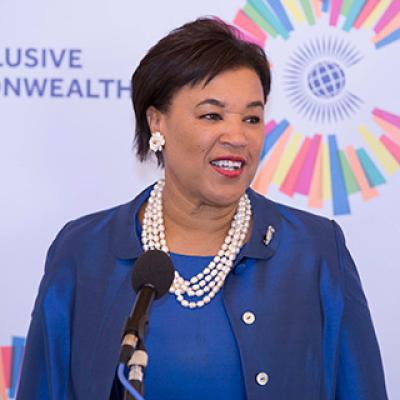 Patricia Scotland was born in the Commonwealth of Dominica. She is the tenth of twelve children and grew up in London. She completed her LLB (Hons) London University at the age of twenty and was called to the Bar at Middle Temple at the age of twenty-one.
Her career has been marked by achieving a number of extraordinary firsts, not least of which was to be the first woman in the more than 700-year history of the office to serve as Her Majesty's Attorney- General for England and Wales and for Northern Ireland.
While holding these and other senior ministerial offices, she was given responsibility, inter alia, for gender equality, domestic violence, forced marriage, and international child abduction, and from these positions promoted diversity and equality of opportunity, particularly for women and girls.
As the only woman to have been appointed Secretary-General of the Commonwealth, she is placing special emphasis on mobilising the 56 nations of the Commonwealth to tackle climate change – including its disproportionate impact on women – and, through women's enterprise, to build the resilience of smaller or more vulnerable countries. Eliminating domestic violence and violence against women and girls is another key area of focus for her.