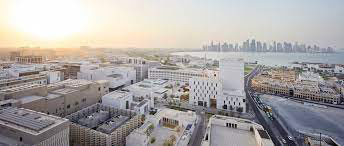 This program aims to explore the design, planning, and management of urban spaces to create sustainable, resilient, and inclusive cities in hot and arid regions.
The program's activities investigate and analyze the impacts of urbanization on environmental, social, and economic systems, to develop evidence-based solutions for sustainable urban growth.  
Earthna recommends policies, campaigns and strategies for cities, which aim to achieve long-term sustainable urban growth and reimagine the existing built environment to support climate change adaption and mitigation.
We convene thought leaders to advance conversations around sustainability in hot and arid cities and have a particular focus on energy efficiency, air quality, green infrastructure, and smart city technologies. Our work aims to enhance vital city components including walkability, urban density, mobility, recreation, occupant health and wellbeing and connection with nature. We put our work into action by using Education City—our home—as a testbed for placemaking pilots and developing community specific solutions for Qatar and hot and arid regions.